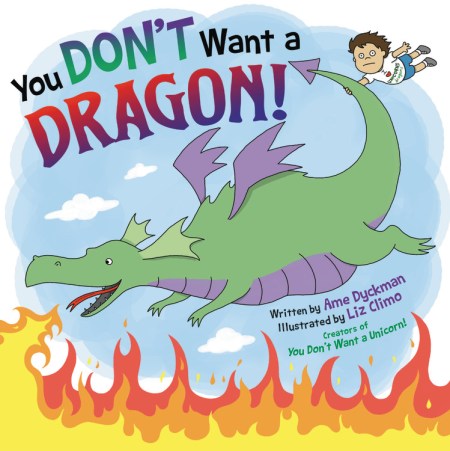 You Don't Want a Dragon!
The follow-up to the hilarious top seller You Don't Want a Unicorn! reminds readers to be careful what they wish for…again!
Our protagonist wishes (much to the narrator's continued chagrin) for a pet dragon. Though initially thrilled, the kid quickly discovers that dragons aren't quite as awesome as they originally thought. From the scooting to the digging to the fire-breathing, our Kid is dismayed that they still haven't found their perfect pet. Little do they know, that pet might just be right around the corner…
Read More
Praise
Praise for You Don't Want a Unicorn!:
"Climo's rainbow-bright illustrations take Dyckman's silly premise to a whole new level of absurdity.... This is a crowd-pleaser, complete with cupcake poops and rainbow burps, and...a welcoming and unobtrusive gender-nonconforming vibe."
—
Horn Book
"Climo creates gleeful unicorn havoc ... there's a lot of mischievous fun to be had."—Publishers Weekly
"The tone of the wry, bemused narrator is perfect...and the target audience will likely be eager for a repeat listen."
—Bulletin of the Center for Children's Books
"Imaginative fun throughout."—Booklist
Read More
Read Less