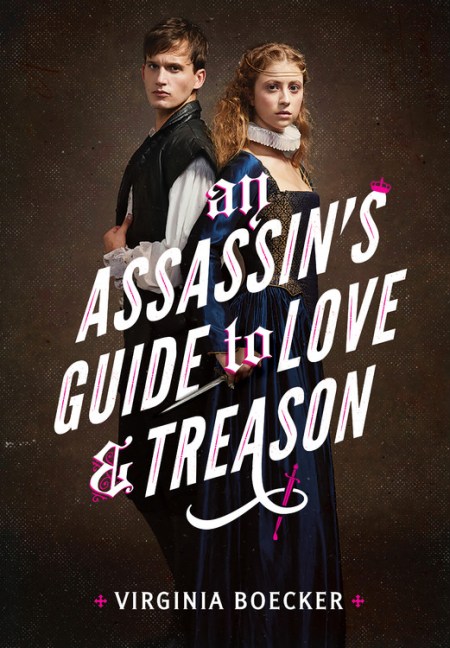 An Assassin's Guide to Love and Treason
A Kirkus 2018 Best Book of the Year!
Shakespeare in Love meets Philippa Gregory in this witty and thrilling story of star-crossed assassins in Elizabeth England, perfect for fans of My Lady Jane and The Gentleman's Guide to Vice and Virtue!
When Lady Katherine's father is killed for being an illegally practicing Catholic, she discovers treason wasn't the only secret he's been hiding — he was also involved in a murder plot against the reigning Queen Elizabeth I. With nothing left to lose, Katherine disguises herself as a boy and travels to London to fulfill her father's mission, and to take it one step further — kill the queen herself.
Katherine's opportunity comes in the form of William Shakespeare's newest play, which is to be performed in front of Her Majesty. But what she doesn't know is that the play is not just a play. It's a plot to root out insurrectionists and destroy the rebellion once and for all.
The mastermind behind this ruse is Toby Ellis, a young spy for the queen with secrets of his own. When Toby and Katherine are cast opposite each other as the play's leads, they find themselves inexplicably drawn to one another. But the closer they grow, the more precarious their positions become. And soon they learn that star-crossed love, mistaken identity, and betrayal are far more dangerous off the stage than on.
Read More
Praise
Praise for An Assassin's Guide to Love and Treason:
A Kirkus 2018 Best Book of the Year
A 2019 YALSA Best Fiction for Young Adults Title
"
An Assassin's Guide to Love and Treason
is
a thrilling, immersive romp
through Shakespeare's London, and all the intrigue, alliances, and politics that shaped it. Helmed by two feisty leading players who I fell in love with as they fell for each other, and with
snappy, energetic prose
that will appeal to both fans of historicals and contemporaries, there's something here for everyone.
I devoured this book with ravenous joy.
Bravo!"—
Mackenzi Lee, New York Times bestselling author of The Gentleman's Guide to Vice and Virtue
* "A scrumptious slice of history. The conflicts of religion, sexuality, class, and gender identity are apropos to contemporary times. Victor, Victoria and Shakespeare in Love: Meet your thrilling new sister. Or brother."
—
Kirkus (starred review)
"Between its harrowing start and nail-biting conclusion, Boecker (The King Slayer) creates complex characters and a rich historical setting in a story that explores religious extremism, self-identity, and the blindness of love."—Publishers Weekly
"A satisfying blend of early modern spycraft and stagecraft...suspense and romance... [A] breathless, satisfying romp."—BCCB
"A fast-paced historical mystery rich in period detail that also explores gender and sexuality. A great buy."—SLJ
"Shatters gender stereotypes...Historical fiction meets young adult literature in this suspenseful story about two "star-crossed" lovers who face seemingly insurmountable odds to be together."—VOYA
"[Virginia Boecker] paints a thrilling picture of Tudor England with all the intrigue, romance, and danger a lover of historical fiction could want."
—
Sharon Biggs Waller, author of The Forbidden Orchid and A Mad, Wicked Folly
"Assassin's Guide to Love and Treason is an engrossing story of love and intrigue, with a rich atmosphere that takes you back in time and a cast of historical characters that stay with you long after you've finished. I couldn't put it down!"—Alexis Bass, author of Love and Other Theories
"Assassins, spies, a forbidden romance, a plot to kill the queen, and secrets aplenty--all centering around Shakespeare's Globe Theatre. Be still my Shakespeare-loving fangirl heart."
—
Angela Mann, Kepler's Books, Menlo Park CA
"An Assassin's Guide to Love and Treason is the Shakespeare book I've been waiting for. Boecker cleverly intertwines classic Shakespearean tropes with a story that feels fresh and original. In addition to revolving around Shakespeare's Twelfth Night, it has the spirit and fun of A Knight's Tale and a charm all its own. It instantly found a place on my all time favorites shelf."
—
Rachel Strolle, Anderson's Bookshop, Naperville IL
Praise for The Witch Hunter and The King Slayer:
A YALSA 2016 Teens Top Ten Nominee
* "An explosive cocktail of high-stakes adventure... "
—
PW (starred review)
"This book is perfect for lovers of Cashore's Graceling and Maas's Throne of Glass...."
—
VOYA
"A fun, corpse-ridden, blood-drenched debut."
—
April Genevieve
Tucholke, author of Between the Devil and the Deep Blue Sea
"Sassy and smart, this page-turning fantasy is full of action, wit, and magic. I ate it up in one sitting and demand more...now!"—Beth Revis, New York Times bestselling author of Across the Universe and The Body Electric
Read More
Read Less