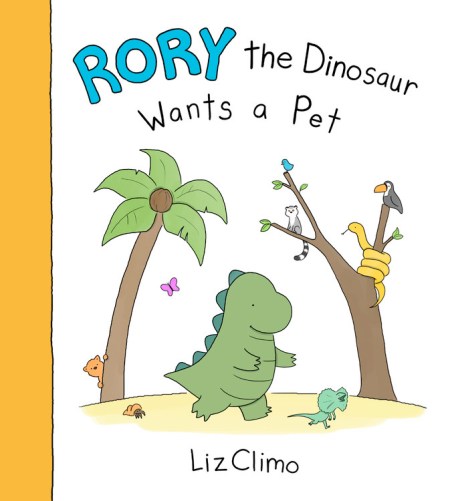 Rory the Dinosaur Wants a Pet
When Rory meets his friend Sheldon's pet crab, he realizes he wants a pet of his own. He searches high and low–from tree tops to sand pits–for a creature to love. It's at the end of a long day, when Rory least expects it, that he meets George.
Comic artist Liz Climo celebrates the bond between child and pet with her adorable, deceptively simple illustrations and her timeless story of a child's quest for companionship.
Read More
Praise
Praise for Rory the Dinosaur Wants a Pet:
"The cartoon-style illustrations, achieved with "digital magic," are set off with plenty of white space, and...it is an appealing read-aloud. Children just developing a sense of humor will appreciate the innocent silliness of the tale."


—
Kirkus Reviews
"Climo's crisp, ever-adorable cartoons show the two teeter-tottering, playing dress-up, and sharing a bubble bath. It's a cheerfully absurd portrait of unconditional love."—Publishers Weekly
"Climo's sweet digital illustrations brim with vibrant colors, and young listeners will enjoy noting the many witty visual details.... A perfect lap-sit title or story hour choice."—Booklist
Read More
Read Less