Natasha Friend on THE WOLVES ARE WAITING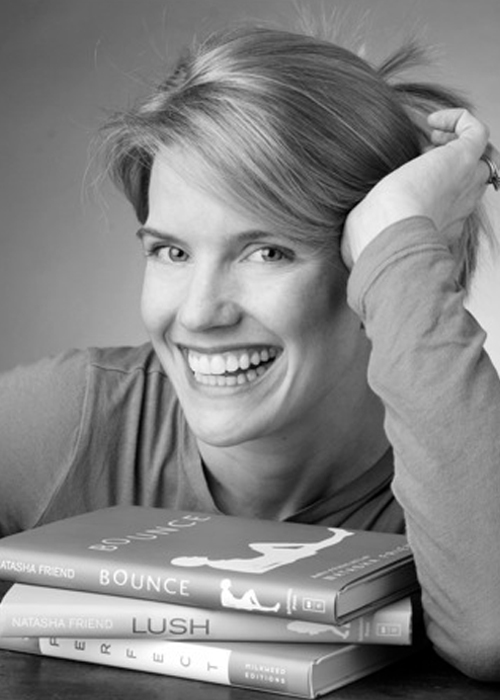 Although THE WOLVES ARE WAITING is a work of fiction, I, like Nora Melchionda, grew up in a small college town in upstate New York. I, like Nora, felt safe everywhere I went. The town was the college, and the college was the town. There was a single traffic light. No one locked their doors. The summer I was fifteen, I met three college guys—all football recruits—coming out of the movie theater in town. They smiled and asked my name. I smiled and told them. I was flattered that they wanted to talk to me. I spent the rest of the summer hanging out with the three of them, on the playground of my elementary school, at New York Pizzeria, in their dorm room on campus. At the end of August, I said my goodbyes. My family was moving to Massachusetts. A few weeks after I moved, I received a phone call from one of my oldest childhood friends. "You know those college guys you hung out with all summer?" she said. "They gang raped a girl at a frat party."
I did not feel the impact then. I did not feel the impact when the story came out in People magazine. In fact, I did not feel the impact until decades later, when the #MeToo movement began gaining traction, and I began taking inventory of my past. That was when I remembered my fifteenth summer, and it suddenly hit me: how naive I had been. If my family had not moved away when we did, that girl could have been me. I was in their dorm room. Alone. And I never thought twice.
The idea for THE WOLVES ARE WAITING came from the moment when I realized my fifteen-year-old self had dodged a bullet. I wanted to write a book not about a girl who has been raped, but about a girl who, by some act of serendipity, is spared the trauma of rape. What would that girl do with her dodged bullet? What would her friends do? What would her family do? I wanted to explore the culture of toxic masculinity in a college town where male athletes are worshipped and high-school girls are jokingly reminded not to be "frat bait."
Nora Melchionda is not a typical hero. She is an ordinary teenager who finds herself in an extraordinary situation—waking up on the 9th hole of the college golf course with no memory of the night before. Nora could be any girl, in any town, waking up in any number of places and pretending she is fine. The story gets interesting when Nora realizes that she is not fine. She is, in fact, outraged. The act of creating Nora—and her best friend, Cam—has given me a do-over for my adolescent self. Through my female characters, I get to be both more vulnerable and more courageous than I ever was at fifteen.
The choice to include the voices of male characters—Nora's brother, Asher, and her classmate, Adam Xu—was important. I wanted to show the flip side to toxic masculinity. Both Asher and Adam have the emotional intelligence not only to self-reflect and acknowledge their own biases, but also to counter the destructive attitudes and behavior of other male characters in the book.
I love writing for young adults because I remember viscerally how it felt to be a teenager. I can still summon that particular blend of elation and despair and hope and shame and insecurity and hormones and righteous indignation. Now that I have three teenagers of my own, I am increasingly aware of the complicated world my children are growing up in and the deeply ingrained societal messages they are receiving about gender roles and identity.
I hope THE WOLVES ARE WAITING will not only ring authentic to teen readers, but will also serve as fuel for conversation about rape culture and how to combat sexual violence. If Nora's story can light a fire in readers' bellies to be part of the change, I have done my job.
---
From award-winning author Natasha Friend comes a compelling investigation of sexual harassment and the toxic and complicit structures of a small college town.
Before the night of the Frat Fair, 15-year-old Nora Melchionda's life could have been a Gen-Z John Hughes movie. She had a kind-of boyfriend, a spot on the field hockey team, good grades, and a circle of close friends. Of course there were bumps in the road: she and her lifelong BFF Cam were growing apart and her mother was trying to clone her into wearing sensible khakis instead of showy short skirts. But none of that mattered, because Nora always had her dad, Rhett Melchionda, on her side. Rhett was not only Nora's hero, but as the Athletic Director of Faber College, he was idolized by everyone she knew.
Now, Nora would give anything to go back to that life. The life before whatever happened on the golf course.
She doesn't want to talk about it—not that she could, because she doesn't remember anything—and insists that whatever happened was nothing. Cam, though, tries to convince Nora to look for evidence and report the incident to the police. And then there's Adam Xu, who found Nora on the golf course and saw her at her most vulnerable. She ignores it all, hoping it will all go away. But when your silence might hurt other people, hiding is no longer an option.
The Wolves Are Waiting begins in the aftermath of an attempted assault, but reaches farther than a story about one single night or one single incident. What Nora and her friends will uncover is a story that spans generations. But it doesn't have to anymore.